5 days Varanasi Bodhgaya tour package
4 Night /5 days trip for Varanasi- Bodhgaya Tour with Ganga Aarti– Morning Boat Ride-- Temple Tour- Sarnath – Gayaji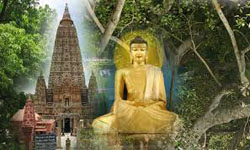 Package start with
Rs. 7050* Per Person
For Detail Per Person Cost Click Here
Inclusion
Duration :
4 Night /5 days
Destination :
Varanasi-Bodhgaya-Varanasi
Vehicle cost till 31st March, 2016
Cost in INR
Etios
12500
Innova
16500
Tempo Traveler
(8+1/ 12+1)
23000
Tempo ( 15+1)
On Demand
Coaches (35/45)
On Demand
Varanasi Arrivals + Ganga Aarti
Pickup from Airport/Railway station and check in to Hotel.
At evening, get ready to experience one of the most memorable moments of your life, as you will be taken to River Ganges. Enjoy Ganga Aarti. Get a glimpse of the spiritualism at the Ganga Ghats (river front).Can enjoy the Ganga Aarti on Boat (optional and by own cost). Night stay at Hotel in Varanasi.
Summary :
Varanasi – Morning Boat Ride – Sarnath (15 KM 0.5 hr) - Temple Tour
Early morning, we will be taken for a boat ride on the Ganges. It is a mystical and spiritual experience as you watch people offering water to the Sun God and devotees taking holy dip in the Ganges. We will visit all the famous Ghats of Varanasi via boat. Latter visit the most religious Kashi Vishwanath temple, Annapurna Temple, the Bharat Mata temple, Sankat Mochan(Hanuman temple) , Manas Mandir, BHU. Come back to hotel for breakfast.
Latter in non, we will be taken for an excursion to Sarnath. Sarnath is the place where Buddha delivered his first sermon to his disciples. The attractions at Sarnath are the Buddha temples, the Dhamekha stupa, Chaukhandi stupa and the archaeological museum.
In evening have leisure time for shopping in Varanasi (optional and by your own). Night stay at Hotel in Varanasi.
Summary :
Morning boat ride on the River Ganges.
Vishwanath temple, Annpurna Temple
Bharat Mata Mandir, Sankat Mochan, Manas Mandir, BHU
Sarnath (Dhamekh Stupa, the Chaukhandi Stupa and the Archaeological museum)
Varanasi – Bodhgaya (300 Kms 6 Hrs)
After Breakfast transfer to Bodhgaya Check in Hotel. Later Visit Lord Buddha Temple (Maha Bodhi temple), Bodhi Tree, Buddha Statue Covers other sightseeing places Sita Kund, Janki temple, Haleshwar Asthan, Ram chura(Vaisahali) and Overnight stay at Hotel in Bodhgaya.
Summary :
Visit Lord Buddha Temple River , Bodhi Tree, Buddha Statue
Sita Kund, Janki temple, Haleshwar Asthan, Ram chura(Vaisahali)
Bodhgaya-Gaya-Varanasi (300 Kms 6 Hrs)
After Breakfast transfer to Gaya (12 Kms).Visit Vishnu Temples, Vishnupad Temple is sacred among Hindus and is dedicated to Lord Vishnu. According to believers and religious texts, the footprints inside the temple are those of Lord Vishnu.
Visit Japanese Temple, Chinese Temple, TibetianTemple, Phalguna River and drive to Varanasi. Overnight stay at Hotel in Varanasi.
Summary :
Japanese Temple, Chinese Temple, Tibetian Temple
Visit Vishnu Temples,
Phalguna River
Varanasi - Drop to Airport/Railway station
After Breakfast, have leisure time in morning. Latter drop to airport/Railway station with pleasant memory of holy trip.
Summary :
Package cost till 31st March-16 (Cost per person in INR for entire trip-> Accommodation +Transportation)
No. Of Pax
Vehicle
Budget
3 Star
4 Star
5 Star
2
Indigo/Etios
10450
10900
15350
21100
3
Indigo/Etios
8400
8800
13300
19050
4
Indigo/Etios
7325
7725
12225
17975
4
Innova
8325
8775
13225
18975
5-6
Innova
7500
7950
12400
18150
7-8
Tempo
7500
7950
12400
18150
9-10
Tempo
6800
7200
11700
17450
11-12
Tempo
6300
6750
11200
16950
12+
On Demand for better deal and offers
=> For Inclusion and Exclusion kindly go through the tab "Inclusion".
Include :
Cost as per Mentioned Itinerary only.
Commercial vehicle which Includes all Tax, Toll tax, Parking, Driver night charges
Pickup and Drop to/from Railway station/Airport
 Hotel as per selected above with CP plan (Twin sharing room with Complimentary Breakfast)
One Boat ride for about 45 min which covers all major Ghats of Varanasi (  At time of morning sun rise)
Complimentary Mineral water (one bottle per day per person).
Not Include :
Any personal expenditure like tip, Pooja etc. 
Any other boat ride, Guide charges 
Any Entrance Ticket 
Any Train/Flight Ticket 
 Service tax as actual 
Note :
Any deviation in itinerary will change the above proposed cost.
Kindly consult with Car Rental in Varanasi Team for correct cost or mail to - carrentalinvaranasi@gmail.com
For 3,5,7,9… pax(Odd number) - One room will be triple sharing
Child below 6 is complimentary
Child from 6-12 will be charged as 60% of adult cost and Room will be shared by existing room with extra bed.
Child of 12 + are treated as adult.
Hotel Detail
Destination
Budget
3 star
4 star
5 star
Varanasi
Pallavi International
New Temple Town
Meridian
Radisson
Bodhgaya
Om International
Delta
Bodhgaya Regency
Lotus Nikko