Allahabad day excursion tour package from Varanasi
1 Day Excursion to Allahabad – Varanasi - Allahabad - Varanasi.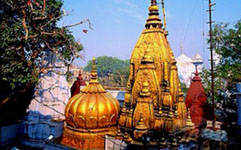 Duration :1 Days
Destination : Varanasi - Allahabad

Varanasi – Allahabad (150 KM, 3 hrs)- Varanasi (150 KM, 3 hrs)-
Pickup from Hotel/Resident and drive to Allahabad . Enjoy the holy bath in river Ganga and in Sangam (Meeting point) of the three rivers - Ganga, Yamuna & Saraswati. Sangam - overlooked by the eastern ramparts of the fort, wide flood plains and muddy banks protrude towards the sacred Sangam. At the point at which the brown Ganges meets the Greenish Yamuna, pandas (priests) perch on small platforms to perform puja and assist the devout in their ritual ablutions in the shallow waters. Beaches and ghats are littered and various holy rituals will be seen everywhere near ghats.
Latter we will cover the other spot in Allahabad like Hanuman Temple, Anand Bhavan - one of the country's best-running museums in memory of Jawahar Lal Nehru. Swaraj Bhawan - the house where the former Prime Minister of India Mrs. Indira Gandhi was born. Bharadwaj park.
Latter drive back to Varanasi.
Note: Have option to come back to Varanasi by boat (Sailing tour). This trip will be cost extra.
<< click here for more detail >> .
Summary :
1. Sangan bath .
2. Hanuman Temple
3. Anand Bhavan, Swaraj Bhavan , Bharadwaj park.